This is a crowdfunding that will support the Sea Turtle Museum "Caretta" for renovation of the facility, in order to create a more comfortable environment for turtles.
Period:  September 30, 2022
Amount Goal:  15,000,000 Yen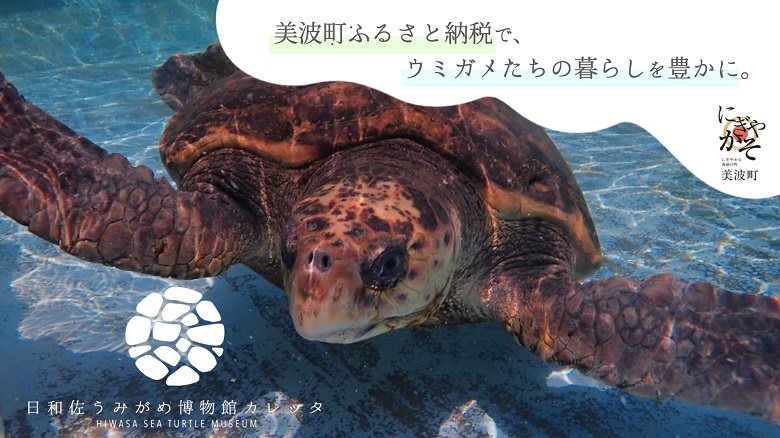 Going back, 72 years ago.
In 1950, during a post-war food shortage, Hiwasa Junior High School students and teacher discovered the carcass of a loggerhead turtle that had been brutally killed for its meat. They were indignant that "this kind of thing should not happen again", started a sea turtle research group and research on sea turtles.

Before long, the research results of the Sea Turtle Research Group were highly evaluated by the public and received various scientific awards, and Hiwasa Town (currently known as Minami Town) came to be known as the Town of Sea Turtles.
The sea turtle research group connected the sashes of their feelings to the aquarium in Minami Town and developed into today's Hiwasa Sea Turtle Museum Caretta.
The loggerhead turtle "Hamataro", which is said to have been hatched and bred in 1950 when the Sea Turtle Study Group started its activities, is still kept at Caretta.
Hamataro is 72 years old in this year, but he is still young as sea turtles and is still fertile. On the other hand, the claws of male sea turtles play an important role in breeding sea turtles during mating. Hamataro's nails were scraped off because our pool is shallow and angular now.

About 5 years ago, we succeeded in mating for the first time by supplementing them with resin artificial claws, but under such an environment, the sea turtles currently in captivity will face similar problems in the future.

Therefore, in order to create a more comfortable environment for sea turtles, Caretta will carry out a full renovation of the facility for the first time in 37 years since its opening and 24 years since the last renovation.

We sincerely ask for your warm donations so that the turtles of Caretta can live comfortably in the future.
[Ready for] https://readyfor.jp/projects/minami-re-caretta/announcements/227214
[Payment Infromation] https://readyfor.jp/projects/minami-re-caretta/announcements/227804